I'm looking at a 1992 Cadillac Touring Sedan. Other than larger wheels and some trim there seems to be no difference with a SDV. Am I missing something? How many were made and for how long? I'm just looking for a nice driver, not a "classic". Thanks.
Oh but there are differences, the suspension, transmission and other behind the scenes stuff. Precisely in 1992 the STS was Motor Trend's car of the year and it made Car & Driver's top 10. If you want it to drive it around, it really should make a difference.
Wasn't that the Seville STS? I'm familiar with those. This just looks like a SDV, it doesn't have dual exhausts or ground effects. Sorry I forgot to put my name on my first post. Frank Bevelacque.
The DeVille Touring sedan had a sticker price about $3,500 above (in 1992) the base DeVille and added things like leather seating, illuminated entry, power recliners, upgraded tires, 16" alloy wheels, FX3 suspension, traction control, and various cosmetics.

Much, except for various cosmetics, could be added to the base DeVille as extra cost options. It was really the "look" that you were buying with the DeVille Touring.
In addition to the differences above, the Touring Sedan interior had real wood vs. the Sedan de Ville's plastic wood and a steering wheel like the 93 STS/ETC. I think the seats had a different pattern also. They are nice cars and I'd take one over a regular deVille for the nicer interior alone. I don't know production figures, but they aren't all that common.
Please correct me if I am wrong but, wasn't the Touring Sedan a Seville and not a De Ville? I thought that is what STS ment (Seville Touring Sedan)
The deVille based Touring Sedan was introduced in mid 1991 model year and continued thru the 93 model. There was also a deVille touring sedan and coupe 85-86. The later cars were very limited production. Exterior wise the had body color door handles and tailight bezels, specific 16" aluminum wheels, body color folding power mirrors,and the Wreath and Crest was mounted in the center of a unique grille. They were produced in limited colors. Interior featured unique 8way power seats, only available in Beechwood leather, along with American Walnut door and instument panel bezels. Powertrain wise a firmer trans shift calibration, sport speed sensitive suspension, and standard traction control. They are totally different from the STS. I would love to have one..

Be aware that many ebay sellers mistakenly list base Sedan deVilles as "Touring Sedan". The VIN of a real one starts 1G6CT53B....... base cars are 1G6CD.....
Quote from: Makandriaco on January 31, 2013, 06:12:23 PM
Please correct me if I am wrong but, wasn't the Touring Sedan a Seville and not a De Ville? I thought that is what STS ment (Seville Touring Sedan)

Both the Seville and DeVille had "Touring" editions. The first DeVille Touring edition was the 1986 model and it had "aerodynamic" exterior items like a front air dam and a small rear spoiler, which seemed out of place on a Cadillac especially back then but maybe it's just me. I found the later versions to be more tasteful.
The 86 model was a 2 door, yes? The later model had some cool styling features like using the 90-91 ETC style door handles painted. The wheel opening mouldings were body colored, the wreath and crest removed from the sail panels, the trunk lock cover was the cloisonne' similar to the STS and ETC's but with different base. The STS ETC style aluminum wheels are 16 x 6 vs the sts etc 16x7. The carpet was upgraded, real wood trim, could have been all leather seats vs. leather and vinyl. Exterior colors were white, black, dark blue, crimson red, dark gray. Those great break away side view mirrors were heated.
Tom CLC#6866
Quote from: Series75 on January 31, 2013, 08:24:17 PM
The 86 model was a 2 door, yes?

Yes, 2 door
or
4 door.
Actually it's a 1991. VIN indicates that it's a real Touring Sedan (thanks 936CD53).
---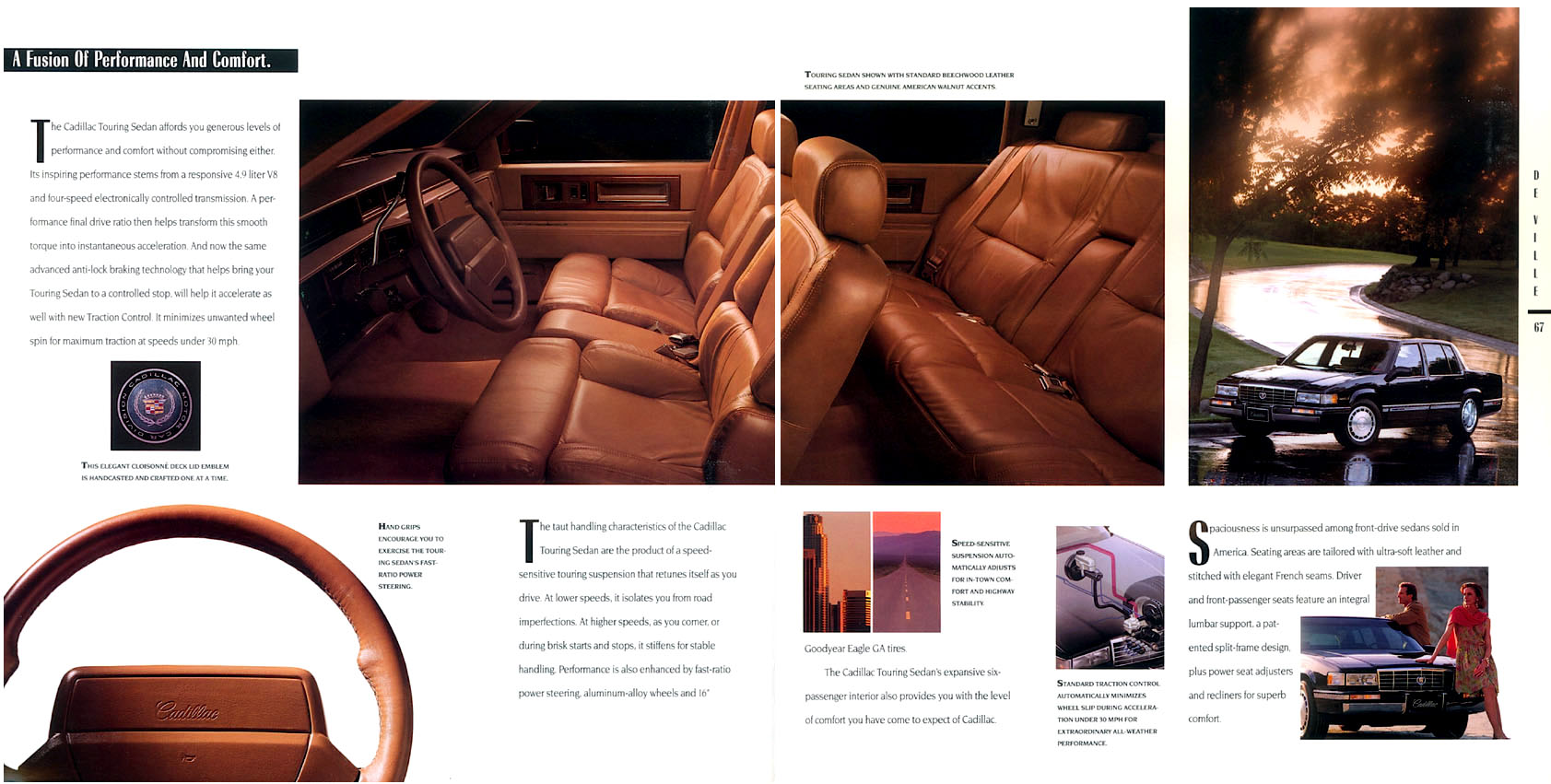 Cool! same color as my car too.
---
Nice looking car. This late 80's, early 90s FWD platform does have a very nice ride. Also nice big greenhouse.
Appears similar to the later concours option?
Frank, I'm writing the CLC Authenticity Manual for these cars, any questions I'd be happy to help if I can. Very pretty car BTW
How many were made? What colors were available? I know that the tobacco brown interior was the only one available. I was actually looking for an Olds Touring Sedan from the same era when I found this one.
---
Quote from: Series75 on January 31, 2013, 08:24:17 PM
The 86 model was a 2 door, yes? The later model had some cool styling features like using the 90-91 ETC style door handles painted. The wheel opening mouldings were body colored, the wreath and crest removed from the sail panels, the trunk lock cover was the cloisonne' similar to the STS and ETC's but with different base. The STS ETC style aluminum wheels are 16 x 6 vs the sts etc 16x7. The carpet was upgraded, real wood trim, could have been all leather seats vs. leather and vinyl. Exterior colors were white, black, dark blue, crimson red, dark gray. Those great break away side view mirrors were heated.
Tom CLC#6866

Also the interior color is referred to as BEECHWOOD. Nice car Frank
Tom CLC#6866